The symbols of Suyeong-gu
home
Introduction of Suyeong-gu
Introduction of Suyeong
The symbols of Suyeong-gu
CI (Symbol Mark)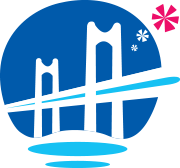 It directly expresses Gwangandaegyo Bridge, the symbol and landmark of Suyeong-gu and a world-renowned tourist spot, and the ocean blue oval shape at the bottom visualizes Gwangalli coastal waters in marine city Suyeong. By and large, it takes the form of the moon signifying warmth and affluence and well expresses a fantastic nightscape of Suyeong, a beautiful life-friendly city. As it emphasizes an element symbolizing a festival and the rising sun outside the circle, it expresses growing Suyeong-gu suggesting a vision for a brighter future as an international marine tourism city with seasonal festivals based on vitality, passion, time-honored history, tradition, culture and loyalty.
Emblem
Emblem indicates authority and status in a decorative way and can replace CI. As a symbol, emblem can be used when a luxurious atmosphere needs to be expressed. / It can be printed or pressed in the form of a combined logo in gold, silver or designated colors.
Slogan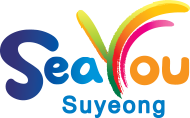 Based on phonic similarity between "Sea" meaning ocean and "See you," it indicates "See you again Suyeong" or "See you in Suyeong" as close friends or acquaintances frequently say to each other while informing that "the sea of Suyeong is yours" to remind people of the Gwangalli coastal water in Suyeong-gu once again. As it is used along with such diverse interesting elements as "Sea you +Gwangalli Eobang Festival / Sea you + Busan International Fireworks Festival," it reflects the firm determination of Suyeong aimed to make a leap forward as an international marine tourism city.
Character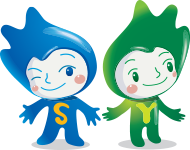 It expresses the refreshing Gwangalli coastal waters in Suyeong-gu and the green of Mount Geumryeon. The head shape symbolizes the waves of the Gwangalli coastal waters and Mount Geumryeon, and the "S/Y" shapes drawn on the chest signify "Suyeong." The gesture and facial expression of the characters indicates the happy image of residents of Suyeong-gu that ranked 1st in terms of residential satisfaction as a beautiful life-friendly city while signifying an international marine tourism city that welcomes tourists visiting Suyeong-gu in a warm-hearted and friendly manner.