Location of Suyeong-gu
home
Introduction of Suyeong-gu
Introduction of Suyeong
Location of Suyeong-gu
Suyeong-gu is located in the south of Mount Geumryeon in the southeastern Busan Metropolitan City and 7.8km to 12km away from the downtown area. As for its surrounding areas, it borders with four autonomous districts such as Haeundae-gu in the east, Dongrae-gu in the north, Yeonje-gu in the west and Nam-gu in the South.

Subway Line No.2 passes through the area, and traffic system connecting the downtown area to the peripheral area is well organized centering on Suyeong Crossroads.
As it borders with the coastal area in the south where Gwangalli Beach, Gwangandaegyo Bridge and Millak Waterside Park are located, it doubles as a maritime tourist attraction.

It is a temperate climate region with seasonal wind, and there is small temperature difference between the winter and the summer due to influences of oceanic climate and has four distinct seasons. As it has milder climate than other regions, it is considered to be appropriate to everyday life in terms of weather conditions.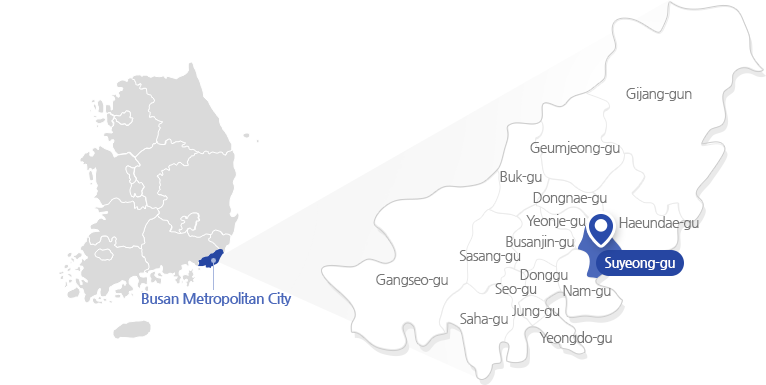 Zoom in view
Longitudinal and latitudinal location
Classification (East, West, South, North), longitude, latitude position, extension distance (km)
Distinction
Longitudinal and latitudinal location
Extension distance (㎞)
Place
East longitude
North latitude
Eastern end
110, Millak-dong
129°08′08″
35°09′14″
East-West 3.60
Western end
San 39, Gwangan-dong
129°05′40″
35°09′31″
Southern end
567, Namcheon-dong
129°06′49″
35°07′59″
South-North 5.31
Northern end
1082, Mangmi-dong
129°06′53″
35°11′01″